The following information is a quick 'at-a-glance' compilation of just some of the useful things you may wish to know about Blythburgh.
You may also wish to consult the Blythburgh Village Map, which gives street names and the locations of places of interest.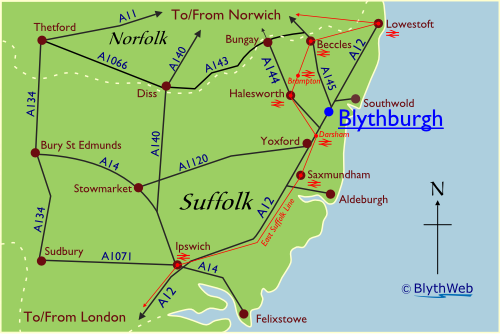 Location:
Postcode (central area): IP19 9LQ
Latitude: 52.322289
Longitude: 1.5979503
Map Grid Ref: TM 452754
Local Council:
East Suffolk Council (website).
Parish Council:

Parish Clerk:
Email: blythburgh.pc@gmail.com.

Birdwatching:
Hide available for birdwatching - follow the footpath just off the old Southwold Railway track.
Buses:
Bus stops located in London Road. Services to Halesworth (East Suffolk Line train station) and Southwold, with links from both to destinations further afield. For general local travel see the 'Travel Information' section of our Useful Links.
Events:
To see details of events in the local area please see the Blythweb Calendar.
Leisure and Recreation:
Click here to find a wide range of Leisure and Recreation in the Blythburgh area
Local Services:
Click here to find a wide range of Businesses and Services in the Blythburgh area
Medical/Health Care:
Dr.Castle and Partners, Sole Bay Health Centre, Teal Close, Reydon, Southwold IP18 6GY. Tel: 01502 722326.
Blythburgh Community First Responders (Blyth Valley). Telephone: Val Carse on 07973 389 898
Places of Worship:
Holy Trinity Church, Church Lane, Blythburgh, Halesworth, Suffolk IP19 9LP.
Bellringers - contact Peggy 07503 462292.
Recycling:
Bins for various items located at Old Station Yard, Station Road, Blythburgh, Southwold, Suffolk IP19 9LQ.
This area also serves as a car park - useful for walkers, birdwatchers.
Trains:
The nearest train stations are:
Darsham Station, Main Road, Darsham, Saxmundham, Suffolk IP17 3PN
Halesworth Station, Station Road, Halesworth, Suffolk IP19 8BZ
Both stations are on the East Suffolk Line (London Liverpool Street - Ipswich – Lowestoft).
See also the 'Travel Information' section of our Useful Links.
Village Hall:
Blythburgh Village Hall, London Road, Blythburgh, Halesworth, Suffolk IP19 9LQ. Tel: 07796 850196 (bookings).
Should you need more information on anything mentioned here the Parish Clerk should be able to assist.
Great care has been taken in compiling this information, which is checked regularly for accuracy,
and any errors or omissions are regretted.